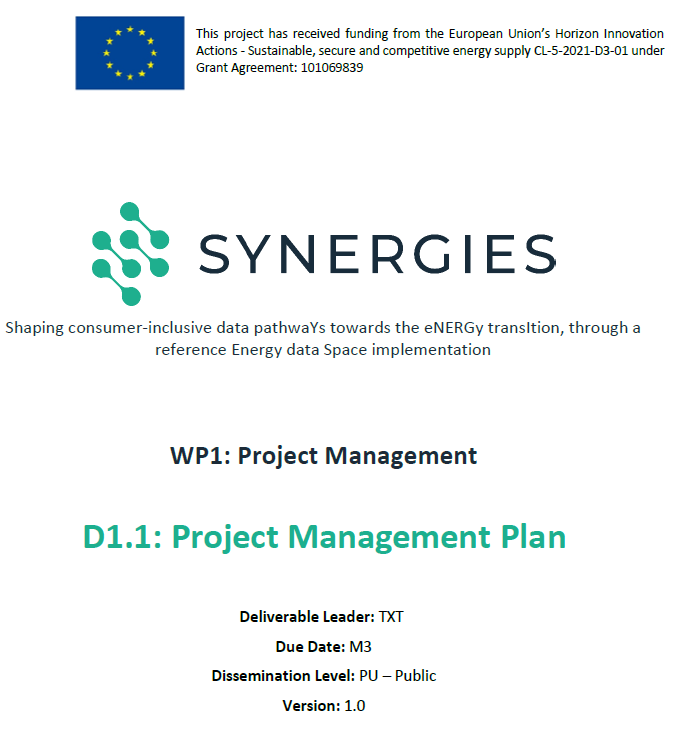 D1.1 "Project Management Plan" describes the processes and tools that are applied in the SYNERGIES project to ensure high-quality of the SYNERGIES deliverables and of the overall project management activities. The document identifies the structure, processes, timeline and tools that shape the project organisation and work. The quality assurance process has been defined, including standard procedures to create the project documents and periodical reporting to tackle potential deviations. Moreover, a set of tools has been developed to ensure optimal internal communication and coordination. In addition, the risk management methodology has been described in detail and is accompanied by the initial Risk Registry and Contingency Plan.
Special attention has been granted to the ethical approach and the IPR management, given the strong data-relevant nature of SYNERGIES, in order to ensure a smooth management of the SYNERGIES Energy Data Spaces.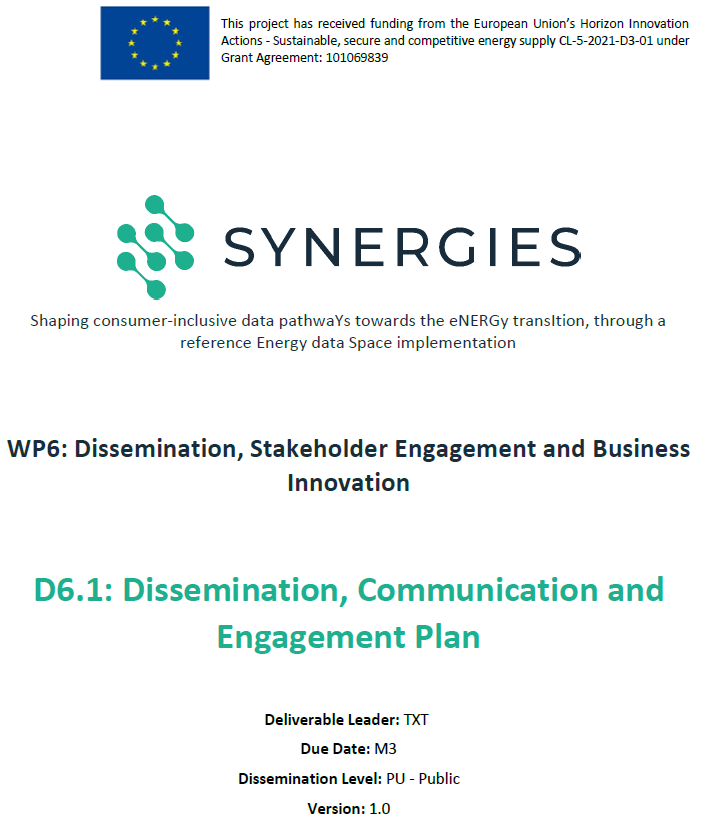 D6.1 "Dissemination, Communication and Engagement Plan" defines the baseline strategy and guidelines for creating a context where SYNERGIES research dissemination and communication can be maximised. In detail, this document provides the objectives, the key messages, the project's target audience and the channels to be used. Moreover, the dissemination and communication plan is presented with road maps and expected outcomes for the two project periods (M1-M20; M21-M42). The description of online presence and media is reported as well as communication materials, events planning for collaboration of the project with other projects and initiatives, news and publications schedule. In addition to these topics, the stakeholders' engagement strategy through Living Lab organisation is included, providing a preliminary planning. Finally, an overview on the actual status of foreseen activities is reported, comprising: the release of the project website; set up of the social media channel and development of the project identity, including the presentations template; the start of collaboration with the sister projects and other European R&I initiatives; media communications announcing the project launch.